When you consider what items in a grocery store have the longest shelf life and the lowest cost, it's usually pasta, rice, canned and processed foods, or frozen foods. 
These highly accessible grocery items are commonly donated in food drives and pantries serving individuals and families facing food insecurity. And while these foods can be part of a healthy diet, maintaining a diet with high concentrations of them can also contribute to health conditions and chronic illnesses. 
These are some of the factors Fort Wayne leaders, like those at the St. Joseph Community Health Foundation , are taking into consideration as they fight food insecurity during the COVID-19 pandemic. It's not merely about making sure residents have access to food, but also making sure they have access to quality, fresh, nutritious foods that won't end up costing them and their communities more in the long run.
It's about increasing equity and improving outcomes for vulnerable individuals, but also, doing it in a way that provides the most holistic, long-term benefit to the entire community—healthwise and economically.
"It's not just filling bellies with maybe high carbs or less expensive food," says Mary Tyndall at St. Joseph Community Health Foundation. "It's about providing the nutrition people need so they can lead healthy lives, or so they can learn in the classroom or work effectively."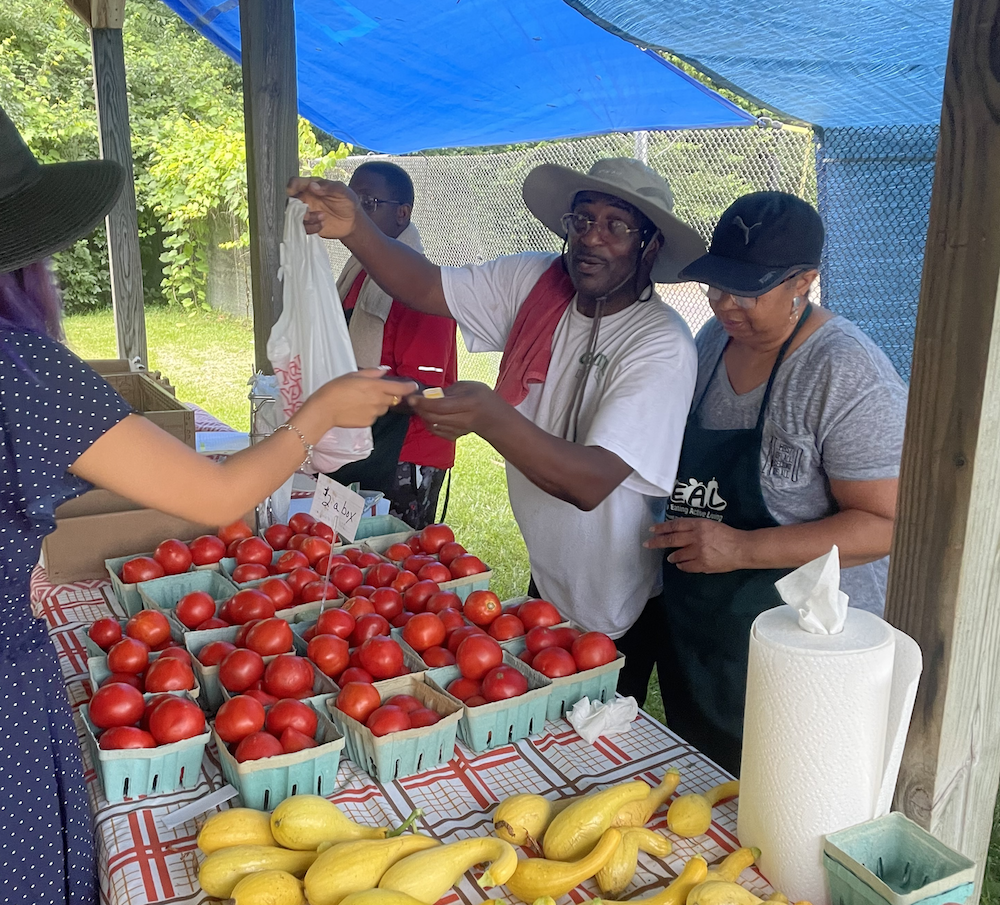 Farmer Gonzalee Martin serves customers at the HEAL Market at McCormick Place Apartments.
These sentiments are echoed by Ken Meter, a national food systems expert, who says the pandemic—despite its many negative effects—is changing the way communities across the U.S. think about food insecurity in a few positive ways. Namely, people are realizing that food and health are necessities every human deserves—not privileges only a few should enjoy—and that preventative measures, like ensuring everyone has access to the healthiest food, serve communities best in the long run by reducing healthcare costs and strengthening local economies.   "During the pandemic, we've largely stopped asking whether people deserve healthy food," Meter says. "We've adopted more of a mindset that: We've got to get healthy food to everyone to keep everyone healthy."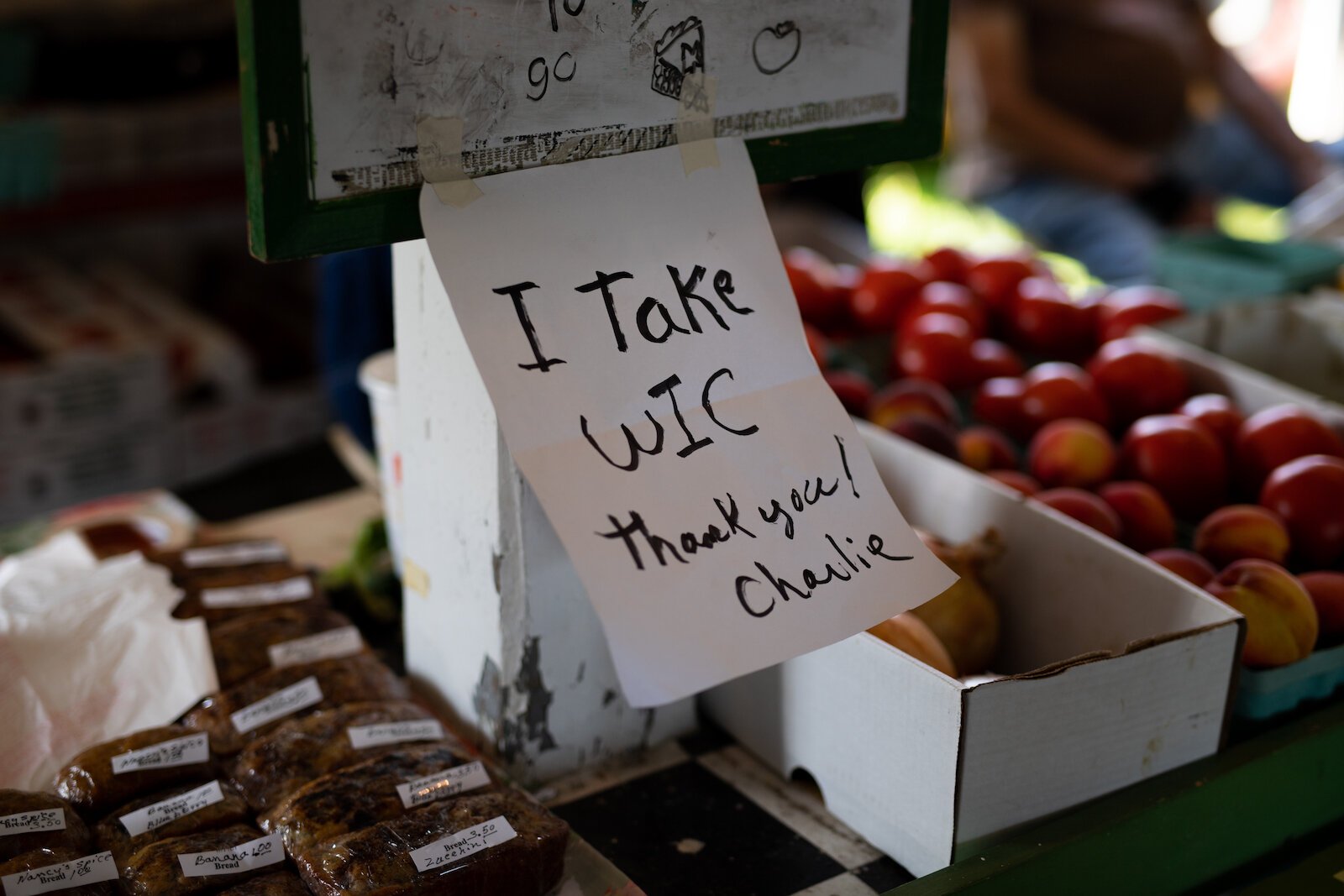 A new program called Double Up Indiana helps low-income families double their buying power on fruits and vegetables at participating retailers. 
As President of the Crossroads Resource Center in Minneapolis, Meter knows well that Indiana has an economic incentive to rethink its food systems. Prior to the pandemic, he conducted research in Indiana (and Northeast Indiana specifically) where he found that Hoosiers spend roughly $16 billion per year on food. Yet more than 90 percent of these expenditures go to farmers and producers out of state —even out of the country. When it comes to fruits and vegetables, this leakage increases to 98 percent.
If Indiana can find ways to grow and consume more of its own produce, these dollars—totaling an estimated $14 billion worth of economic opportunity—could stay within the state instead. On top of that, Hoosiers could be eating food with higher nutritious value. Locally grown produce is often healthier than produce that has been shipped overseas or across the country because most produce loses 30 percent of its nutritional value after only three days .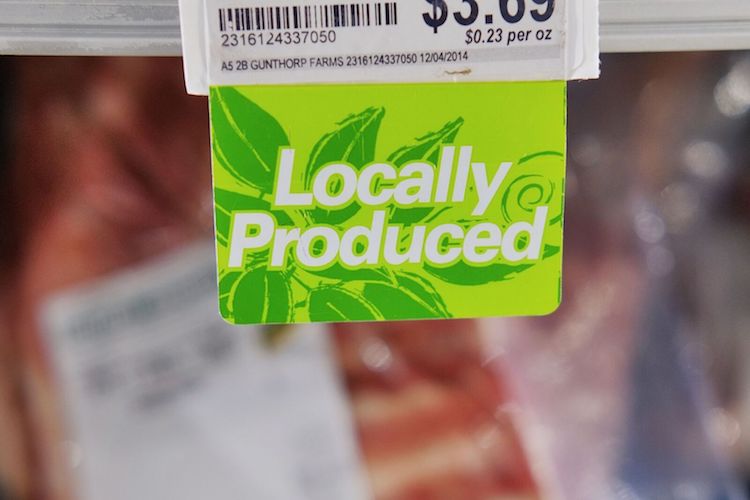 Groceries that sell local food give farmers a market for their products.
While it benefits people and economies alike to incentivize eating local produce, finding ways to do it in the U.S.—especially on the heels of a global pandemic—isn't easy. As leaders at the St. Joseph Community Health Foundation have experienced, addressing food insecurity often requires balancing the immediate need to help those who are hungry today with the need to make longer-term, more sustainable reform in the food system. On top of that, food access is intimately related to other aspects of livability, like transit and income. 
Since the St. Joseph Community Health Foundation was founded in 1998 to aid low-income or vulnerable individuals and families in accessing health and wellness resources, it has evolved to support non-profit agencies that aid immigrants and refugees, provide prenatal and infant care, offer health and wellness services and address food insecurity and nutrition.  
Tyndall is the foundation's Cheif Storyteller who also manages its Double Up Indiana program. This program improves the accessibility of fresh produce by providing eligible Supplemental Nutrition Assistance Program (SNAP) recipients with a dollar-for-dollar match on the purchase of fruits and vegetables at local farmer's markets and select grocery stores. Two participating brick-and-mortar retailers so far are the 3 Rivers Natural Grocery Food Coop Deli and the Health Food Shoppe .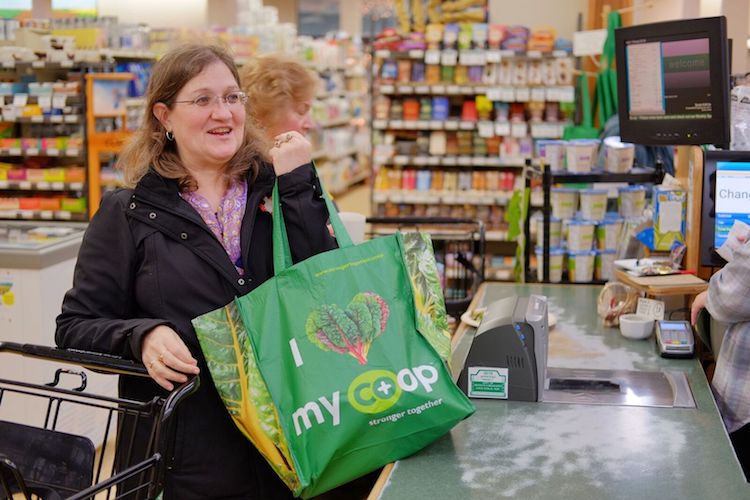 Resident Diana Talor shops at the 3 Rivers Food Co-op at 1612 Sherman Blvd.
Along with supporting those who need healthy, affordable food, Double Up Indiana also benefits local farmers and economies, incentivizing SNAP recipients to keep funds circulating into the hands of Indiana farmers and grocers. The program is funded and managed by St. Joseph Community Health Foundation, with additional support from a U.S. Department of Agriculture grant, Parkview Health, and other local sponsors. 
In many ways, it is an extension of St. Joe's and Parkview's previous collaborations, which increase access to healthy, locally grown foods and education. Since 2014, St. Joseph Community Health Foundation, Parkview Health, the local WIC office, and local farmers have run Healthy Eating Active Living (HEAL) Farm Markets . These markets offer one-stop, neighborhood-based shops for people to collect vouchers and double their buying power on fresh, locally grown produce. They support eligible SNAP, WIC, and Senior Farmer's Market Nutrition Program (SFMNP) participants. 
"You can come in with just your card, have no money, and you could walk away with $30 to $40 worth of government-funded currency to buy fresh produce," says Meg Distler, Executive Director of St. Joseph Community Health Foundation.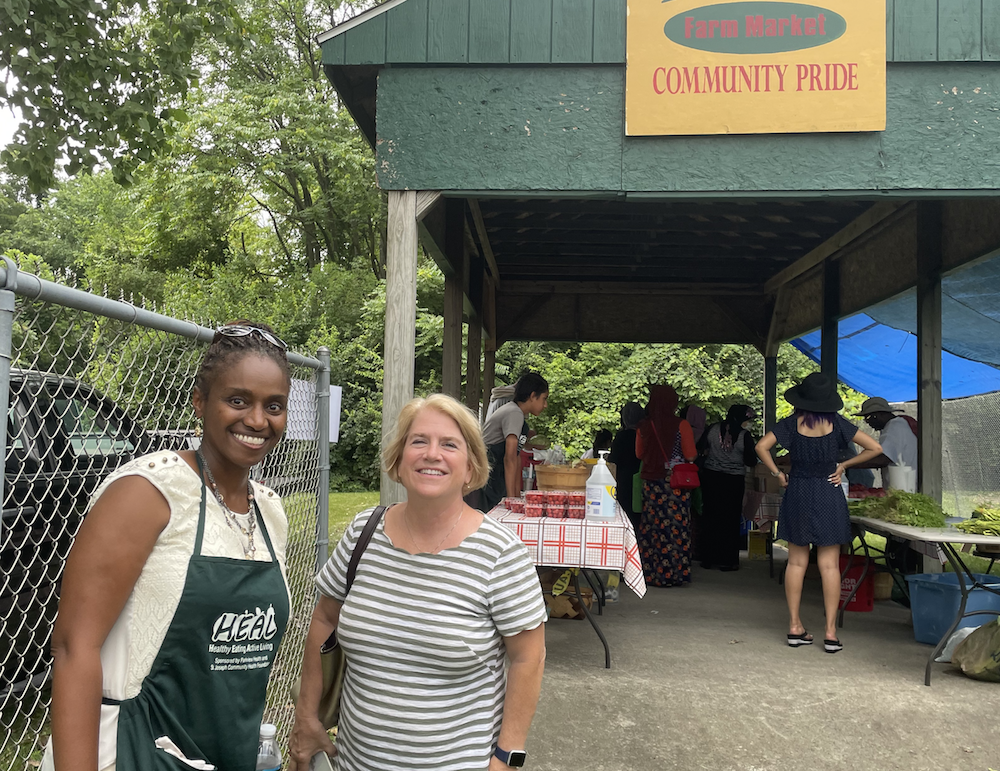 Sharon Tubbs, left, is Director of HealthVisions Midwest of Fort Wayne who manages the HEAL Market at McCormick Place Apartments. She poses with Meg Distler, right, of the St. Joseph Community Health Foundation.
While the upfront costs of subsidizing produce aren't cheap, the costs of allowing people to remain underfed or unhealthily fed are higher. According to the Centers for Disease Control , 90 percent of $3.8 trillion in annual healthcare expenditures in the U.S. are for people who suffer from chronic and mental health conditions. When you break it down, heart disease and stroke cost the U.S. healthcare system $214 billion, diabetes costs $327 billion, and obesity costs $147 billion each year.
Along with aiding in the availability and affordability of local produce in Fort Wayne, the HEAL program also helps local families learn how to prepare healthy meals through its Our HEALing Kitchen Cooking Classes . These are "garden-to-kitchen" courses that teach people how to choose, prepare, and consume fruits and vegetables more effectively. They not only provide participants with the resources for healthy living but also support their upward mobility with education.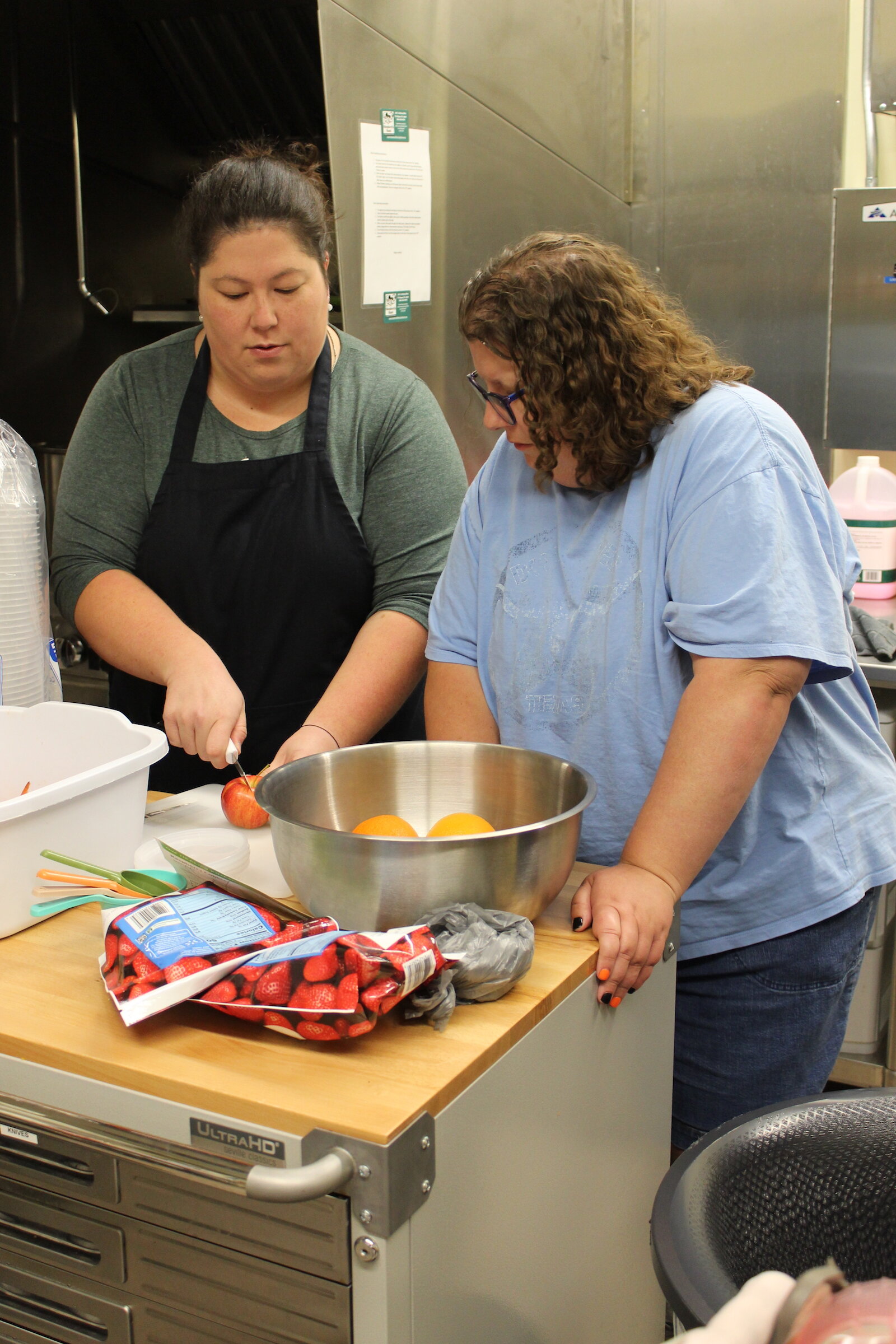 Kim Trombley works with class participant Kalisha Doty as they cut apples ahead of the Our HEALing Kitchen class at Shepherd's Hand.
Tyndall notes that one aspect of the pandemic that may have been beneficial to people is that it required them to rely on cooking at home more often, rather than dining out. This means it might have provided individuals and families the opportunity to acquire more skills in the kitchen and to have greater control over what they're eating. 
Since 2016, Our HEALing Kitchen has hosted 174 classes with more than 2,000 youth and adults in the Fort Wayne area. This fall, the program will be expanding into Fort Wayne Community Schools to reach students at younger ages. 
"Part of what we have been doing all along and expanding this year is the support around education and nutrition and how to cook and prepare very high nutritious food affordably," Distler says.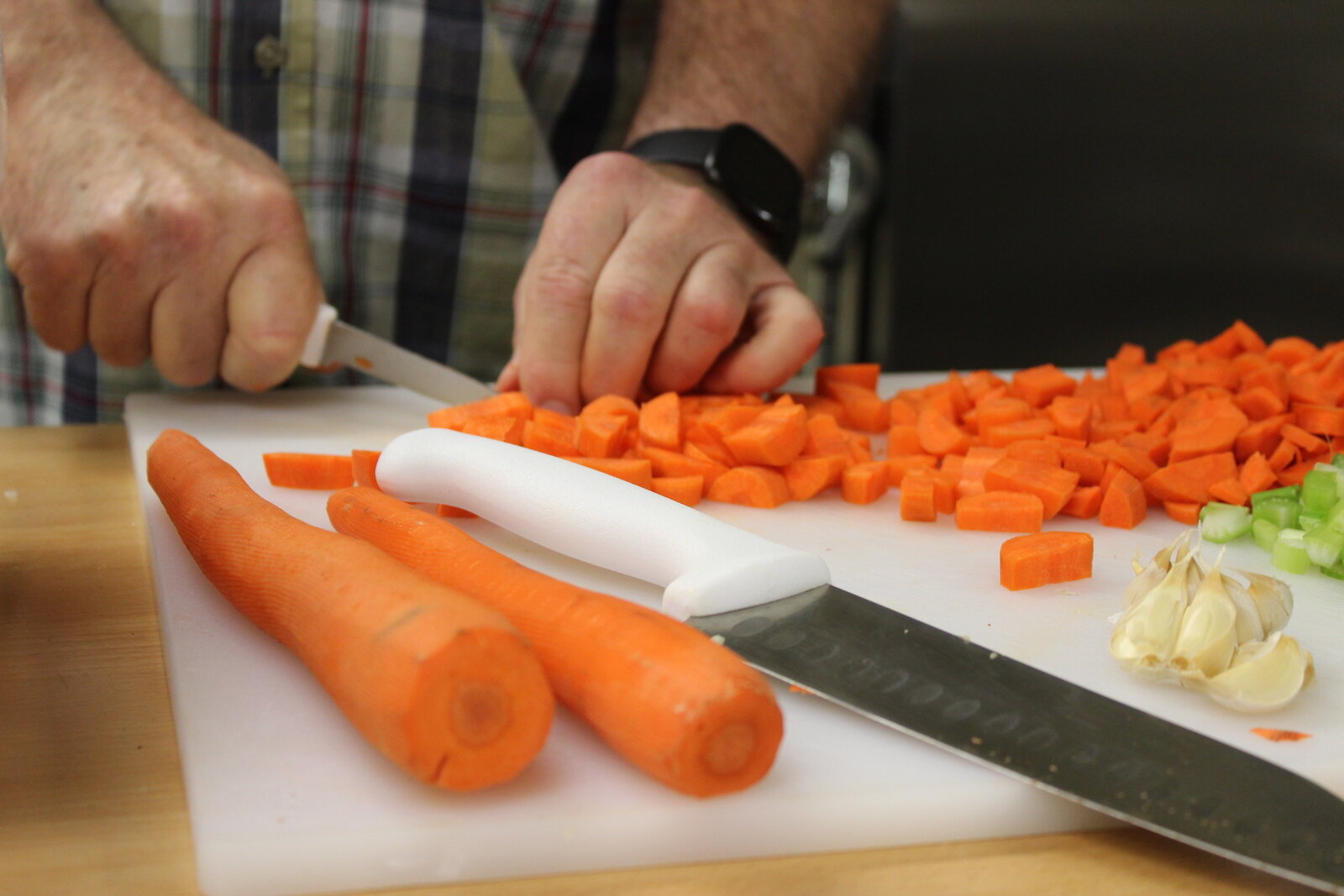 David Rigby, Ruth-Anne's grandfather, helps shop up carrots as part of the Our HEALing Kitchen class at Shepherd's House.
Beginning in the 2022-2023 academic year, students from all 12 FWCS middle schools will have to opportunity to participate in the Our HEALing Kitchen cooking curriculum thanks to a $22,500 grant from the Division of Nutrition and Physical Activity at the Indiana Department of Health.
"This expansion of Our HEALing Kitchen into Fort Wayne middle schools will help students not only learn how to cook but will also help them learn to prepare nutritious meals that can help reduce their chances of developing chronic diseases," Distler says in a press release.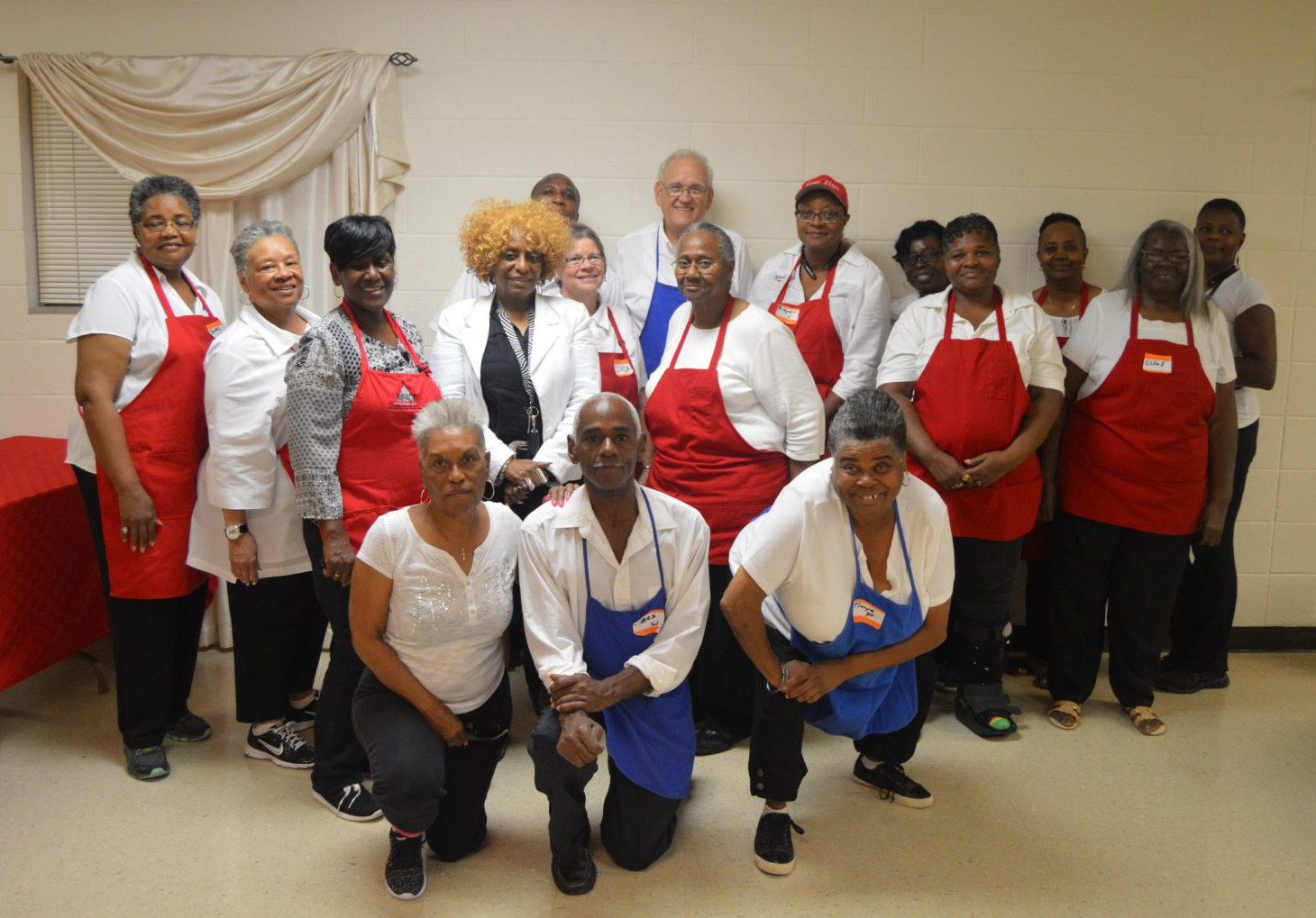 A group portrait of a HEAL Cooking Class in 2017.
Distler points to statistics from the USDA, which show that poor nutrition is the leading cause of illness in the U.S. and is responsible for more than 600,000 deaths per year. On top of that, many people's eating habits are formed when they are children, so starting education sooner is better than attempting to reverse habits down the road.  
"There is a lot of research that has come out during the pandemic, especially regarding increases in childhood obesity, which is the most frequently a sign of poor nutrition," says Distler. "That's one of the reasons we are pushing nutrition expansion."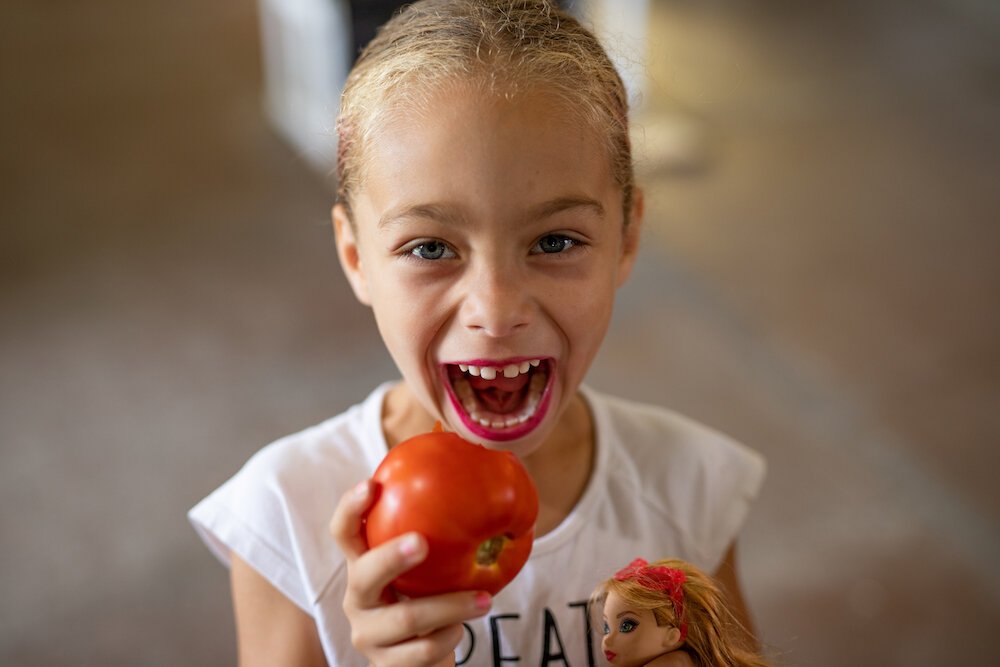 Compared to less healthy or highly processed foods, fresh fruits and vegetables can be expensive and difficult to access.
While the pandemic may have boosted interest in cooking meals at home, it has also worsened food insecurity in Allen County. According to Feeding America , throughout 2019, food insecurity rates remained level in Allen County at about 11 percent. Then in 2020, at the height of the pandemic, rates rose to about 15 percent. By the end of 2021, Allen County's food insecurity rate had dropped to about 13.2 percent. Even so, Tyndall notes that the ongoing "return to normal" is not going to be as relieving to some as it is to others.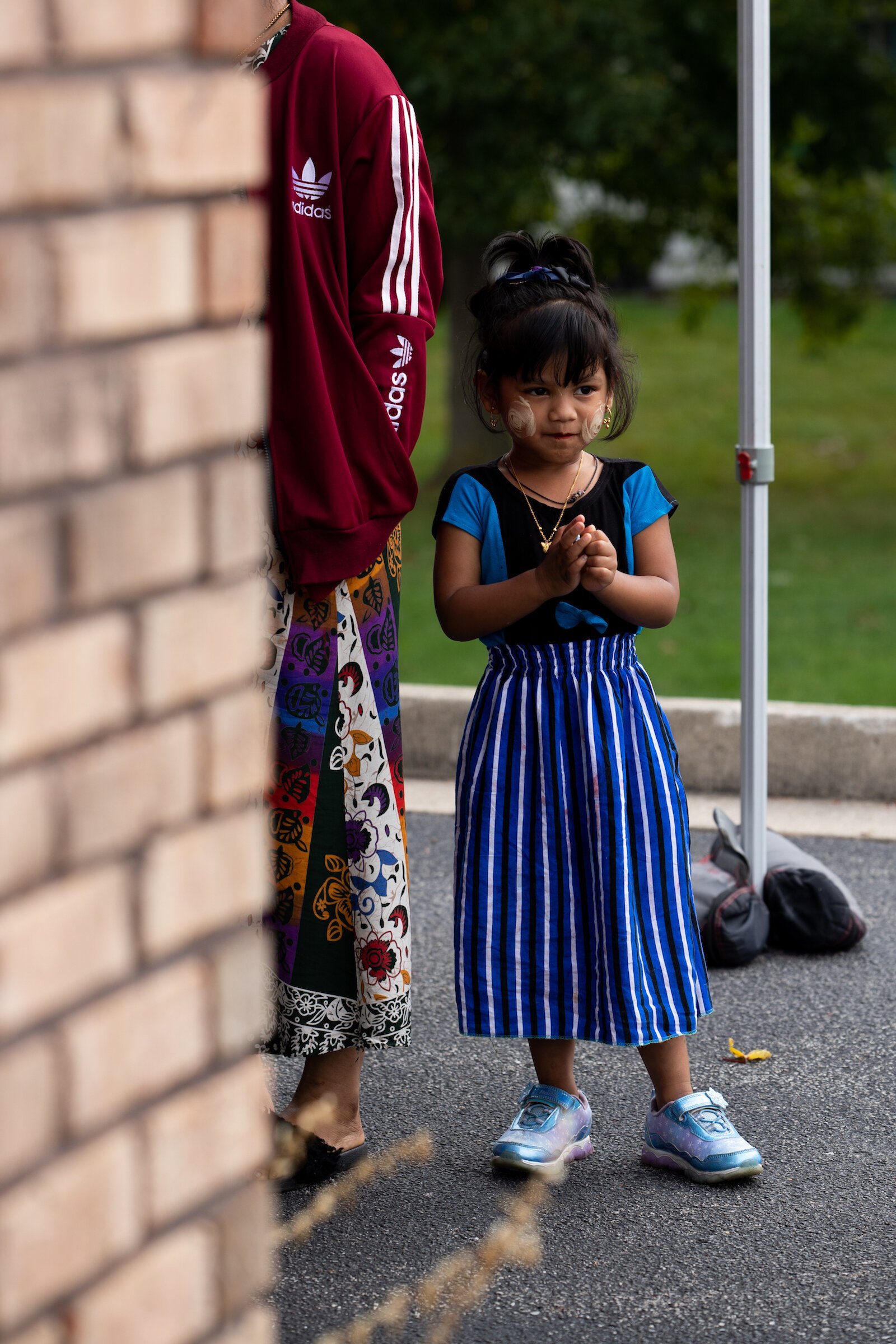 Rose Avenue Education Farm hosts a farmers market every Sunday at the Fort Wayne League for the Blind and Disabled at 5821 S. Anthony Blvd. 
As a part of its COVID-19 relief efforts, the federal government expanded SNAP benefits parameters to include a broader range of incomes, catching people who were previously falling through the gaps in the food system. This means, more Fort Wayne area residents were able to benefit from programs, like Double Up Indiana and HEAL, during the pandemic, and they were supported by additional relief from the American Recuse Plan Act and Child Tax Credit. 
However, many families will be losing SNAP benefits and other aid that has allowed them to remain well-fed the last two years—as soon as the end of May when extended SNAP benefits expire. This deadline, coupled with the rising cost of housing and transportation, national inflation, and an impending end to the FWCS academic year, means more people in Fort Wayne are likely to be food insecure again this summer.
"I spoke with the food bank manager at Associated Churches, and he said that the food banks and pantries are already beginning to see a request for more food," Tyndall says. "We hope that offering things like Double Up and other nutrition incentives will help relieve some of the stress. But we do still expect that our food banks and pantries will see a lot more people coming through their doors."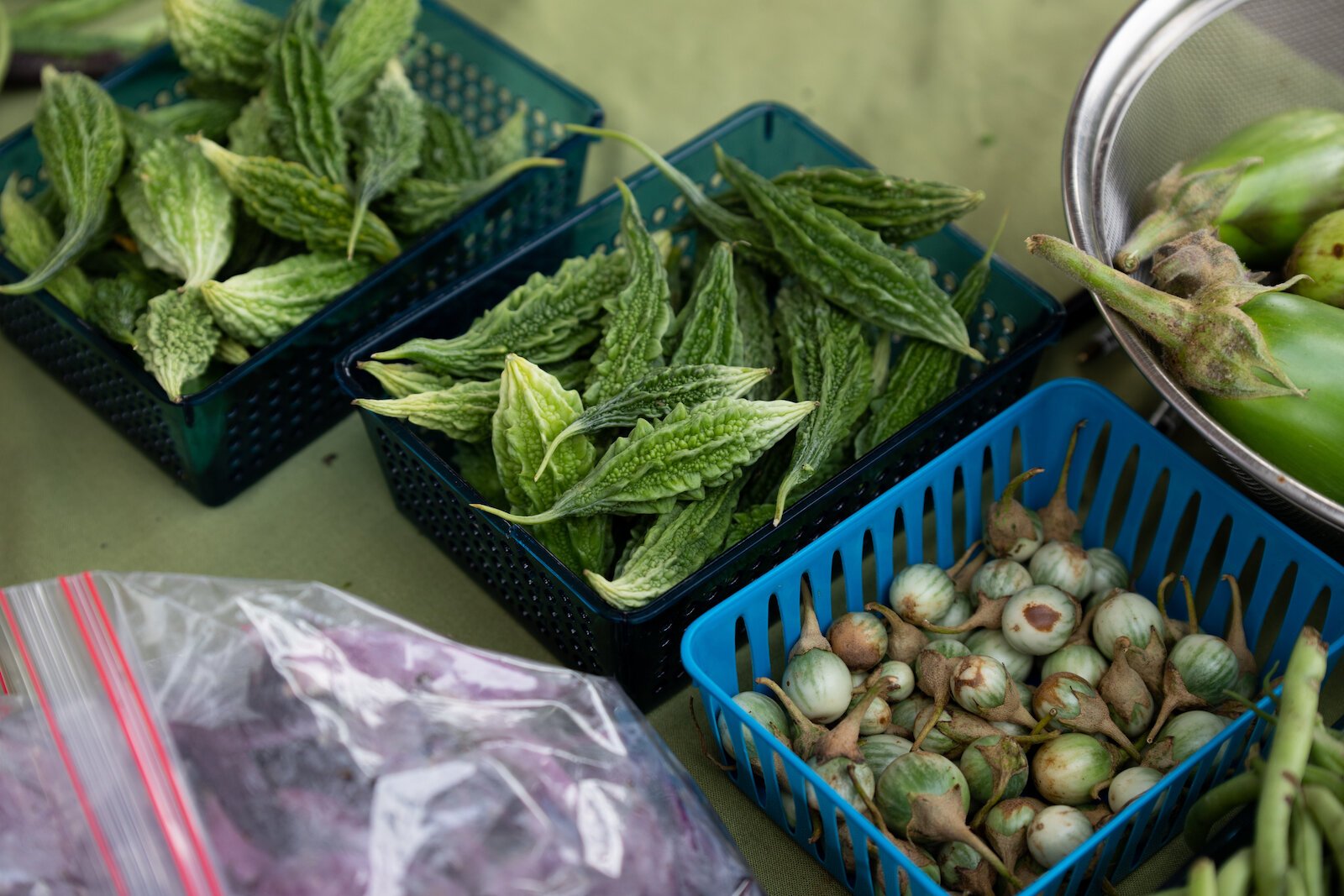 Produce grown by farmers at the Rose Avenue Education Farm.
Still, Distler says another silver lining of the pandemic is that it has required local organizations addressing food and nutrition challenges to build stronger bonds and lines of communication among themselves. These deepening ties between organizations, like St. Joe and Parkview Health, help them better address ongoing needs in Indiana's food system, as a whole. 
Across the country, many states have been implementing produce prescription programs as a proactive, preventative approach to increase healthy eating habits, reduce food insecurity, and decrease healthcare costs at the same time.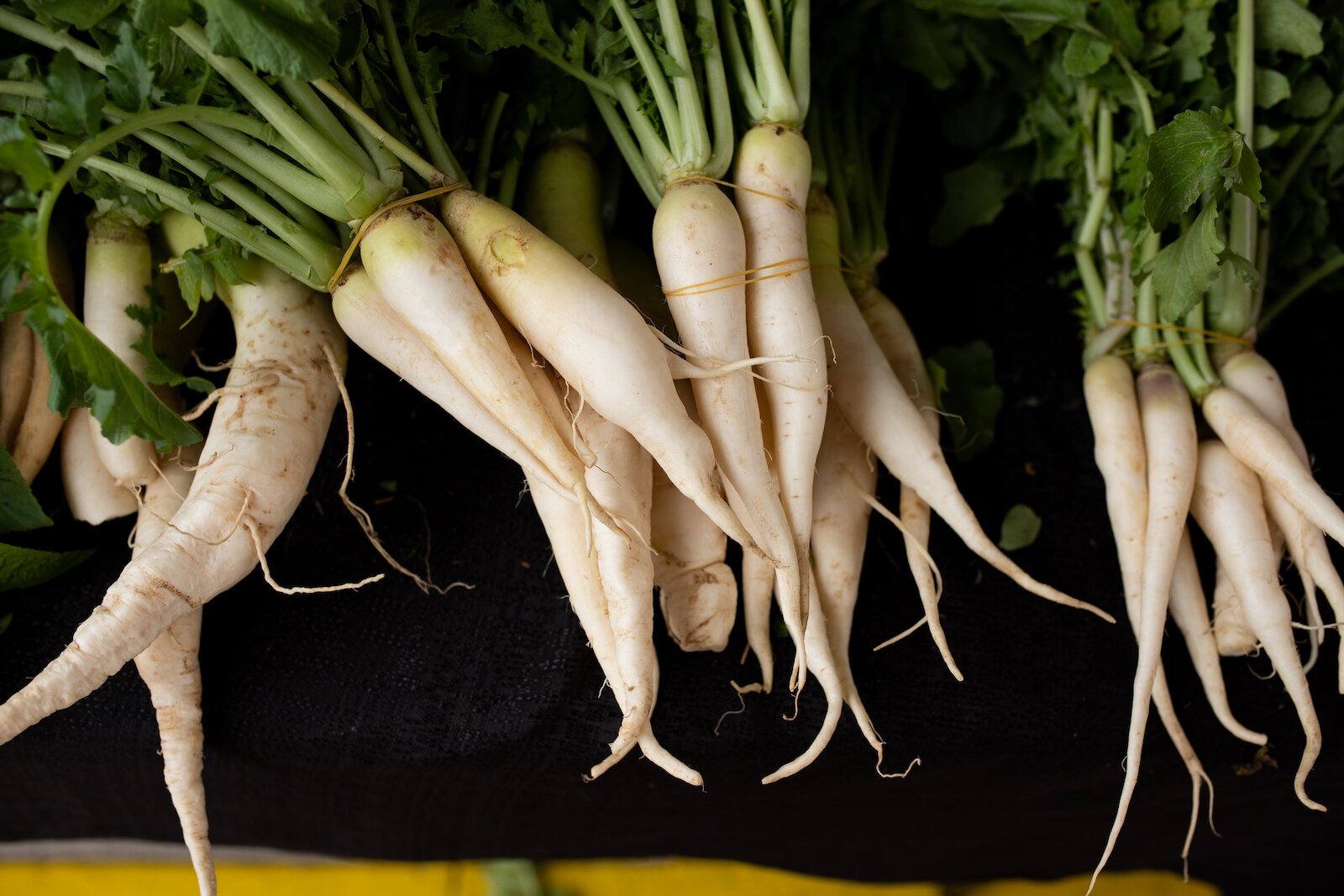 Carrots grown by farmers at the Rose Avenue Education Farm.
As part of the Gus Schumacher Nutrition Incentives Program (GusNIP), veggie prescriptions were implemented as a part of the federal 2018 Farm Bill . In 2019, Parkview Health was awarded a $500,000 grant from the GusNIP, which allowed them to pilot and launch a Veggie RX program in the Fort Wayne area, which will serve 850 participants within its three-year grant cycle. 
According to Parkview's website , the Veggie Rx program is open to adult residents of Allen County who have pre-diabetes or diabetes, cardiac diseases, and/or qualify as at-risk pregnant women. Participants are required to attend two education classes, plus two phone or virtual consults, during their six-month enrollment. For doing so, they will receive $50 per month in vouchers to subsidize fresh fruits and vegetables. 
Michelle Bojrab-Wray is the lead Community Outreach Dietitian at Parkview Health, who oversees nutrition and wellness initiatives with a focus on health equity. She echoes Distler's sentiments that helping Allen County residents access healthier foods earlier in life prevents health challenges down the road, and she believes Veggie RX is another step toward that goal. 
Reflecting on the program's pilot phase and its growth in the summer of 2021, she believes more local residents are becoming interested in nutrition and "lifestyle medicine."
"We saw a tremendous improvement in our program just this last summer with interest in the community," says Bojrab-Wray. "We actually enrolled 121 participants, and we had 109 complete, which is an 89 percent retention rate."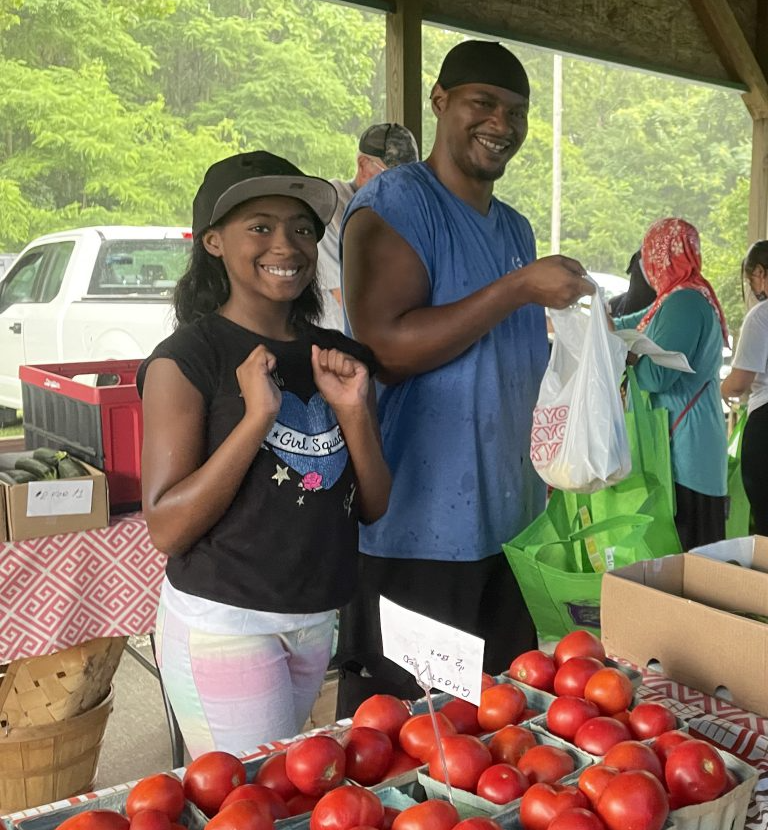 Attendees shop for fresh fruits and veggies at the HEAL Market.  
Along with prescribing healthy foods, Veggie RX allows healthcare providers to become more involved in screening residents for food insecurity and health conditions. Like the Double Up and HEAL programs, it encourages local sourcing for produce and educates patients on nutrition and healthy living, too.
On April 26, Parkview was awarded an additional $466,373 grant through the GusNip, empowering them to expand the program from its initial three-month term to its current six-month duration.
In addition to Veggie RX participants reporting that they feel an increase in their overall health, Parkview reports an overall 50 percent increase in their fruit and vegetable consumption, as well as 45 percent of patients saying their quality of eating habits increased, along with the quality of food choices available to them.  
"Healthwise, we've seen a lot of wonderful success already from Veggie RX, regarding improvement and reduction in both systolic and diastolic blood pressure," says Bojrab-Wray. 
Ultimately, reducing barriers to healthy food for everyone benefits individuals, healthcare systems, and entire communities.
This story is a part of Input Fort Wayne's Solutions Series, exploring how our community is addressing residents' essential needs during the pandemic. It is underwritten with support from the NiSource Foundation, NIPSCO, Brightpoint, and St. Joseph Community Health Foundation.