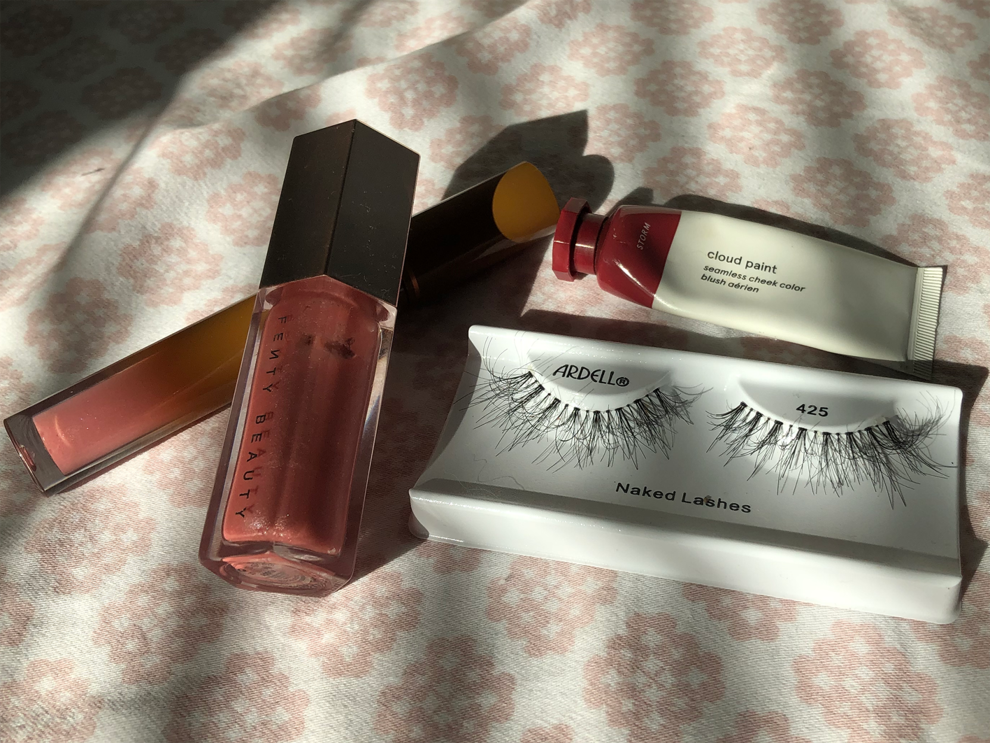 (Photo Illustration by Jessica Choi)
Neutral tones, deep hues and an overall sultry look blend together to create a classic, autumnal complexion. The pops of bright colors and heavy-handed bronzer have faded away, leaving room for new, contemporary takes on this fall season's beauty trends.
Flushed cheeks
Blush made a comeback this year with the fresh, dewy sunkissed look. The overdone rosy cheeks that extend across the nose and up into the temples is a trend that is not backing down — even in these chillier months. Instead, the peachy, summer colors have transitioned to reddish, berry tones which give off a more bold, flushed look as if you've just come back from playing in the snow.
This amped-up blush trend is a fashionable remix on the normal blush placement that can add an element of youth and liveliness to the face. It is an easy technique to recreate, as application does not have to be so precise. Ditch the heavy contour that can easily create a muddy complexion and switch to this sweeter, more forgiving alternative.
Beauty marks
The perfectly applied, imperfection-hiding mask of face makeup has mellowed out to a more natural skin complexion. With this "your skin but better" beauty trend, the appearances of freckles, moles, birthmarks, acne and all the real qualities of human skin are embraced as the latest trendy look.
This newfound shift in makeup and skincare embraces the mantra of "less is more." Past the filters and high-coverage foundation, we all know what real skin is like, and now is the time to flaunt your uniqueness. People are even mimicking these distinctive skin features through faux freckles, dark circles and other beauty marks.
False expectations of perfectly smooth, poreless, even-toned skin is taking the backburner; real skin is diverse, spotted, uneven, textured and beautiful as is. Showcase your most authentic self with this complexion trend at any occasion.
Bold lips
Whether it is a full glossy lip, a bright lip tint or a classic red matte, the look itself is not specific; however, the trend makes the lips pop to the individual's unique style.
Some of the most popular lip looks include the Korean beauty gradient lip trend. Its bright pink and red colors focus on the center of the lip and fade in intensity moving outwards, creating an ombre illusion.
Another popular lip look is the heavily glossed nude lip. The new nude look focuses on your specific skin tone and catering the nude color to it; the perfect nude slightly accentuates your natural lip color. Don't forget to top it with a shiny clear gloss for that irresistibly juicy look.
Overall, focusing on the lips for your seasonal look is always on trend, so make them the main character of the event.
Grunge or graphic eyeliner
An homage to the early 2000s has resurfaced in many ways: fashion, beauty and decor. The year 2000 is the new retro.
Punk-pop icons from that era rocked bold, smudged eyeliner and made tightlined eyes the sultry look of the decade. However, this smokey eyeliner has modernized itself into a contemporary makeup look by cleaning up the oval shape with more precise lines and cat-eye shapes.
This eyeliner kick also takes inspiration from the '60s with the playful, graphic shapes that encircle the eyes. Bold, thick and black liner is nothing to be afraid of this season. Get creative with grunge, graphic eyeliner that will give off the original, sexy vibes of the 2000s and '60s and make a statement this season.
Abstract nails
The classic French manicure with its crisp white tips and pinkish, nude base has made a slight comeback. However, it is completely revamped, artistic relative has reigned the newest nail design trend of the year: abstract nails.
Squiggly lines, swirls and ambiguous shapes have outdone the boring, clean lines of original nail art. This fun, refreshing approach to customizing your nails offers room for creative liberty and expression.
Although this style for nails was something that emerged earlier in the year, it has carried through into the autumn. Instead of the neon, bright pops of color that accompanied the summer designs, pastel colors, jewel tones and shades of black and white have taken over. The black and white abstract designs with a nude base color mimic the simple essence of the French manicure, but it's something completely new.
Wispy eyelashes
The days of full-glam are sparse and have lost its once gleaming appeal; we've grown accustomed to staying in, working from home and shifting our attention inwards. Subsequently, beauty trends have embraced working with what we have and highlighting individual beauty. So now the thick, glamorous false lashes have toned down to wispy, fluttery ones that mimic a more natural, realistic look.
The thick, voluminous, long lashes will not catch the attention of anyone at the holiday party; instead, a sweet pair of flirty lashes will compliment the natural sparkle in your eye.